Source | Jan 29, 2019
| Exclusively illustrated badges, clear folders to be sold
Mogura Entertainment will bring to you a collab project between Kaji Yuki-san and 5 illustrators ー Listen: Dreamy Illustrators Exhibition in HMV&BOOKS, which will be held in 2 stores at HMV&BOOKS Shibuya (Tokyo) and Shinsaibashi (Osaka), from February 8th, 2019.
In the Valentines special feature this time round, 37 cards (trading cards attached with voice) drawn by 5 illustrators of Valentine-themed illustrations with Kaji Yuki-san's voice will be sold.
In addition, other than the showcase of each illustrator's works, the exhibition panel will also have merchandises such as badges and clear folders with with exclusively drawn illustrations available for sale.
Furthermore, there will be an introduction voice prepared for the 37 cards as a venue-limited bonus, it has been made so that it can be enjoyed together with the main part.
※Illustrations that are not exclusively drawn are included among the merchandises too
---
| Participating Illustrators
那多ここね (@natakokone)
猫とろ (@necotoro_m)
ヒメユリ (@himeyurrrrry)
ますだみく (@mokotomoko)
埜生 (@nanashi_lie)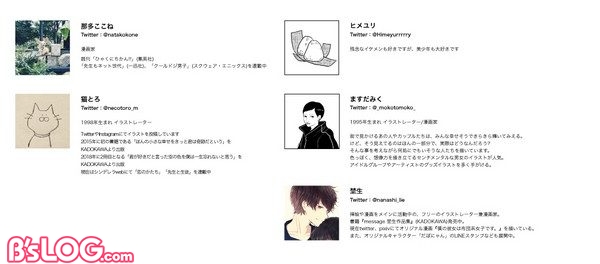 ---
| Merchandise Lineup 
37 card(5 types in total)
【Price】¥1000 each[tax included]
Badges(19 types in total)
【Price】¥432[tax included]
※ Each illustration will be distributed on random (excluding one type of natakokone-shi's design)
Poster card 4 pieces set (4 types in total)
【Price】¥648 each[tax included]
※Sets are sold by illustrator
Poster card natakokone(1 type in total)
【Price】¥216[tax included]
Clear folders(15 types in total)
【Price】¥432[tax included]
Sticker 3 pieces set(4 types in total)
【Price】¥1000 each[tax included]
※Sets are sold by illustrator
Sticker natakokone(1 type in total)
【Price】¥270[tax included]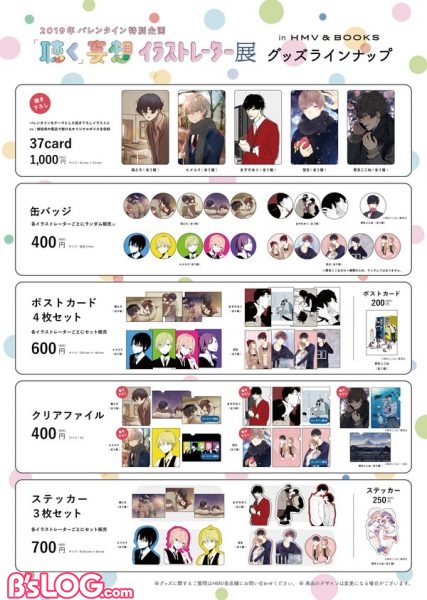 ---
| Exhibition Details  
【Title】Listen: Dreamy Illustrators Exhibition in HMV&BOOKS |『聴く』妄想イラストレーター展 in HMV&BOOKS
【Entrance】Free
【Opening days】February 8, 2019 (Fri) ~ February 21, 2019 (Thu)
※HMV&BOOKS SHIBUYA、HMV&BOOKS SHINSAIBASHI
【Stores available】
HMV&BOOKS SHIBUYA
Address:POPUP Space, 1 Chome-21-3 Jinnan, modi 5F Shibuya, Tokyo 150-0041, Japan
Hours:10:00~22:00
HMV&BOOKS SHINSAIBASHI
Address:POPUP space, 1 Chome-4-3Shinsaibashi Opa 8F, Nishishinsaibashi, Chuo Ward, Osaka, Osaka Prefecture 542-0086, Japan
Hours:11:00~21:00