Source | Apr 5, 2019 at 7:00 PM
The TV anime adaptation of Adachi Mitsuru's ongoing high school baseball-themed manga "MIX" has been slated to air on April 6th from 5:30 PM.  The plot follows two boys of the same age and born on the same day, Tachibana Touma and Soichiro, who have become step-brothers following their parents' remarriage, and their journey as a battery aiming to compete in the national Kōshien baseball tournament ー to be voiced by Kaji Yūki (younger brother: Touma) and Uchida Yūma (older brother: Soichiro). It is said that while the two voice actors have co-acted before, they've never played characters with such a close connection with each other. What are their impressions of each other, and their passion for Adachi Mitsuru's work? And of course, the interview draws into the inside-story of the topic that has called for public attention ー "Uchida Maaya & Uchida Yuuma co-acting as siblings". Hear Kaji speak of his perspective watching the Uchida siblings "getting along too well" in the studio.
The phenomenal work that is said to have printed over 7.5 million copies, becoming one of the 67-year-old author's most successful series, is set 30 years after "Touch", his popular baseball manga in the 1980s, revolving around the "fated brothers", Touma (pitcher) and Souichiro (catcher) at the baseball club of the same Meisei High School as they strive for the top in the national Kōshien baseball tournament. Though due to "certain circumstances", Touma has been made to become the 3rd baseman of the team, while he continues to hone his hidden talents as a pitcher. The story leads up to Soichiro's biological sister, who is at the same time Touma's step-sister unrelated by blood, Tachibana Otomi (CV: Uchida Maaya), then joining the two Tachibana brothers in their school days. 
---
CO-ACTING AS BROTHERS 
THEY THINK OF EACH OTHER AS「a nice guy」&「wonderful TOO wonderful」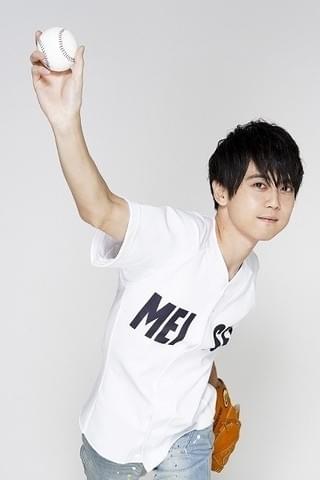 ーThough it looks like the recording has already begun, have the two of you discovered anything new about each other during the process?
Kaji Up till now, although we've co-acted before, we haven't had full-on interactions in any works. However, with "Mix" as the start, we've begun playing characters who share strong connections with each other, so I feel like I'm gradually coming to know about him more and more. Though I've known his personality as a person for some time now, once again, I was made to notice how accepting he is of other people, and that he is the kind of person that builds  up the people around him. I found many things about him that I have to learn from. He really is 「a nice guy」.
Uchida I'm getting a little embarrassed (laughs). If that's what we're talking about, Kaji-san is very observant of his surroundings, and he always looks out for us juniors. It's wonderful how he pays attention and cares for us in all kinds of matters. Also, it might be out of my place to say this but…… His acting is amazing! It's extremely amazing! His acting is truly 「wonderful TOO wonderful」.
Kaji What's with the "TOO"? (laughs)
Uchida TOO means "overly."
Kaji It's my first time hearing anyone use it that way (laughs).
Uchida I made it up (laughs). Being able to work with you this time was truly wonderful. Although I look up to you, I came to feel that I don't want to only look up to you, but become someone who is worthy to exchange words side-by-side with you.
Kaji Somehow, I'm sorry (that you have to say such things)… (shy) Thank you.
---
YUUMA & MAAYA's "SIBLING INTERACTION" IN THE STUDIO
KAJI: "What are they trying to show off? (laughs)"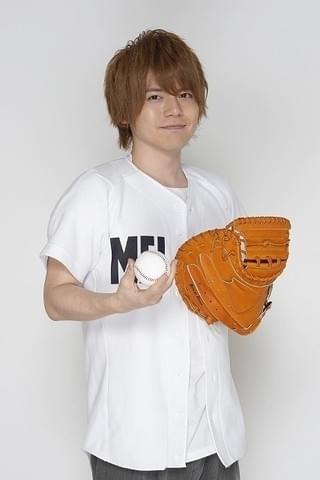 ーSpeaking of the recording, Uchida-san, how do you feel about co-acting with your sister, Maaya-san? Given that both of you are playing the role of siblings, have there been moments where you felt awkward? 
Uchida Both me and my sister go by the policy to respect each other as "a fellow actor" when we meet in a studio, so there isn't much to feel awkward about. But on the other hand, I acknowledge that there are vibes that are only shared between siblings, and I believe there's the "feeling of a real daily life" that can be portrayed by real siblings. It becomes more realistic, I'd say, or an element to portraying reality. I acted while thinking that it'd be great if we managed to portray that. 
ーKaji-san, how do you feel about watching the Uchida siblings in the studio? 
Kaji There isn't anything that bothers me in regard to our roles during acting but…… (In the studio) their seats are next to each other, so they talk among them siblings quite a lot (laughs). It makes me think "Wow they really are close",  "……hey, I wonder what this is about", "What are they trying to show me? (laughs)". Even though there are so many other people around, they often end up talking among the two of them, so it's like, "just do that at home" (laughs). 
Uchida Sorry that we're seated so closely (laughs).
Kaji No, it's fine! (laughs). It just makes me think, "Look at how close they are."
Uchida I can't help but end up talking to my sister……
Kaji That's a good thing, isn't it? For siblings to be close in age and getting along well is lovely. 


---
「MORE THAN FRIENDS BUT LESS THAN BROTHERS」
THE EXQUISITE DISTANCE BETWEEN THE 'BROTHERS BATTERY' ー Touma & Soichiro
ーAnother indispensable element of the story is 'baseball'. Is there anything the two of you watch out for when playing the baseball scenes in comparison to their daily life in terms of the tensity and dynamism?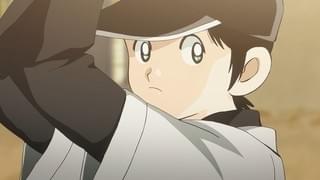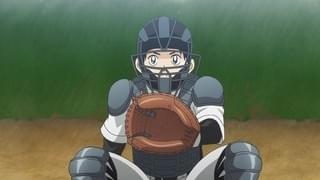 Kaji Touma and Soichiro both hold talents that put them on a different level to the people in their generation, but on top of that, these two boys also put in a lot of hard work.  Although both of them are very passionate and very much motivated by a desire to improve themselves, neither of them are the kind to show that on the surface. So I pay attention to their perspective of "overlooking as things unfold" and how they are slightly "aloof from the world".
Uchida Soichiro's (expressions) are a little more straightforward. Watching the two of them, I feel that Soichiro is the more emotional one. Though he may seem calm at first glance, he becomes emotional pretty often. That balance between those two is something that I feel is very special and interesting about them. 
ーAs a battery of brothers, their balance truly is exquisite.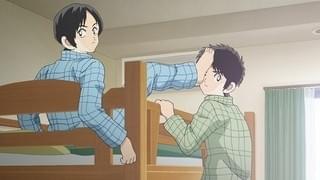 Kaji As the title "Mix" suggests, the relationships among families and brothers are complicating in this story. Although it's nothing rare in dramas, it goes without saying that Touma themselves have hit upon many walls in the past, and went through much contemplation. But now that they've become middle schoolers, it's not that they've completely gotten rid of that worry…… but from Touma's perspective, it's precisely because they're not real brothers that the two of them can act more like friends, and the distance they share can ever be so pleasant. I'd say they're「more than friends yet less than brothers」I believe that that's exactly why they manage to hit it off better as a battery that way. 
Translated by Raku 0925 
Interview from Anime Hack (anime.eiga.com)
---
AnimeHack's official twitter: follow & retweet campaign!
<<Price>>
Kaji Yūki & Uchida Yūma's signed autograph – for 1 person 
<<Application Period>>
April 5th ~ May 6th (2019) 
<<How to participate>>
1. Follow Anime Hack's official twitter account 
2. RT the present announcement tweeted by the official account. Please note not to unfollow the account during the campaign period. 
3. The lucky person will receive a DM (direct message) from the official twitter after the campaign ends.
---
Photo Gallery